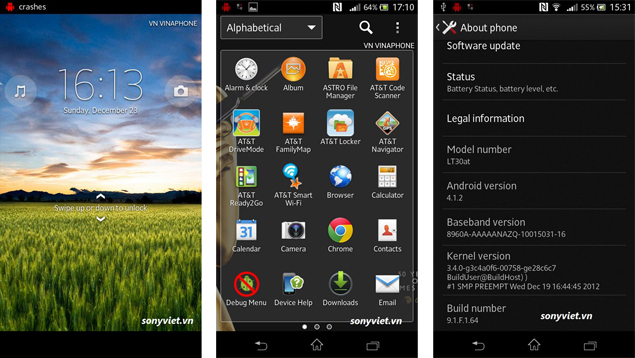 Jelly bean update for Xperia T
In what is Christmas and New year gift, Sony announce update for is Xperia T phones. Though the update is only for Xperia T LT30p/Xperia TL LT30at, other Xperia users can also safely assume that a update for their phones will also be coming shortly.
Sony decided to cheer up its Xperia T users with a Christmas surprise. The company has rolled out the Jelly Bean update for the device months ahead of its official schedule. The Xperia T is now officially upgraded to Android 4.1.2.
As per the images posted by

SonyViet

, it seems there will now be 7 home screens instead of 5 along with a new Lock Screen. The newly updated firmware
users are experiencing improvements in battery life as well as changes in image and sound quality.
The Xperia P, J and go smart phones will receive the upgrade in first quarter of 2013 followed by upgrades to the Xperia S, SL, ion and acro S as reported by Sony. But Xperia U, miro, tipo and sola smart phones may not be upgraded further. Read about the upgrades here.
If you own a Xperia T LT30p or LT30at phone get your update now.
Please post your comments and suggestions on the article.
Vijay Prabhu